I shared my idea with my brother, Mark. He likes to build things too. Of course, he built his faster than I did. And he had some interesting ideas.
He used 2×4's and his frame was very heavy.  Most of the plans we saw used 2 x 4 or 2 x 6.  His suggestion was to use metal studs and be sure and add some handles!  He used downspout instead of pop cans, but by this time I already had lots of pop cans with holes in them.  (Thank you to some good friends who drink iced tea in pop cans!)  I did not want to lose the material or the work.  Plus, I currently live in Montana – where we do not get much sun in the winter. I could see where the heavier metal in the down spout would take longer to heat up.  I may try that idea for my next one.  We shall see.
Using the metal studs made building the frame easier and harder.  The studs have an edge, so I needed to clip the actual fold place and hammer out some of the edge so it would fold correctly.  Plus, I had not riveted anything before.  But it was very easy. 
I clipped the sides with tin snips and clamped a 2 x 6 inside the stud.  Then just bent and riveted the corner .  Before I added the rivets I did my best to trim down the metal so it was a nice curve instead of a sharp skin cutting corner. The metal studs have holes in them.  I just put duck tape over mine.  If this is not successful I will find another way to cover the holes.
For the back of the frame I used a 1/4″ plywood painted with a good oil based paint to repel any water.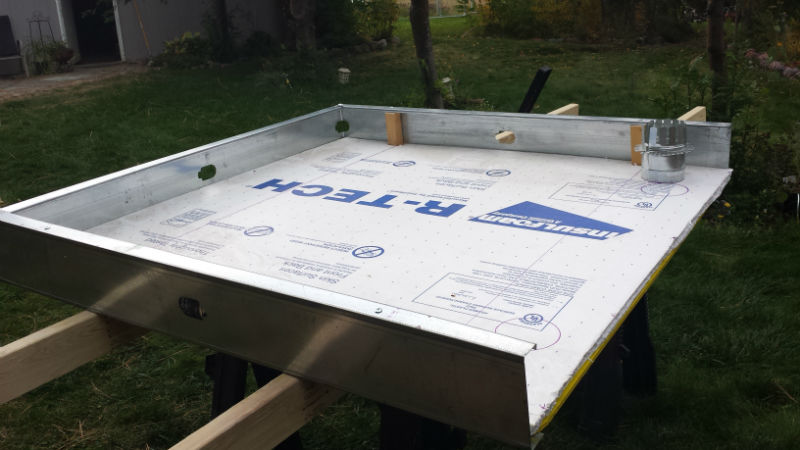 For the back of the frame I used a 1/4″ plywood painted with a good oil based paint to repel any water. 
I used 6″ pipe for my intake and exit points. Mark said he was not getting enough air through his. Granted, he lives in Arizona where he has lots of sun.
I left enough room for the pipe and put my manifolds in. My tubes are 4 cans high. I used a hole saw for cutting and I was not happy with the results. Either the hole was to small or to big. My compromise was to use the to small area at the bottom and to large at the top. I caulked both sides to help hold the cans in place and to force the air to go through the cans. But I am getting ahead of myself. At this point I have measured and have the manifold built.
Another area to think about is what kind of material to use for the manifold.  I used particle board and it bent.  Not strong enough with the holes in it.  But I was trying to use what I had on hand.  Rather than go buy some wood, I reinforced with steel I already had.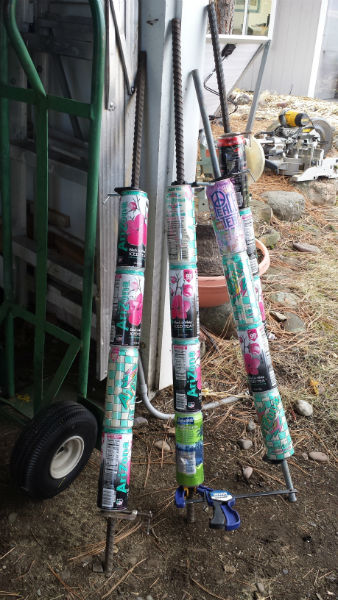 1/2 pipe was great for helping me hold the cans together while I caulked. A clamp at each end held them together.  I wish I had been careful when I caulked.  In the finished product the caulking is not visible, but I know it is rough.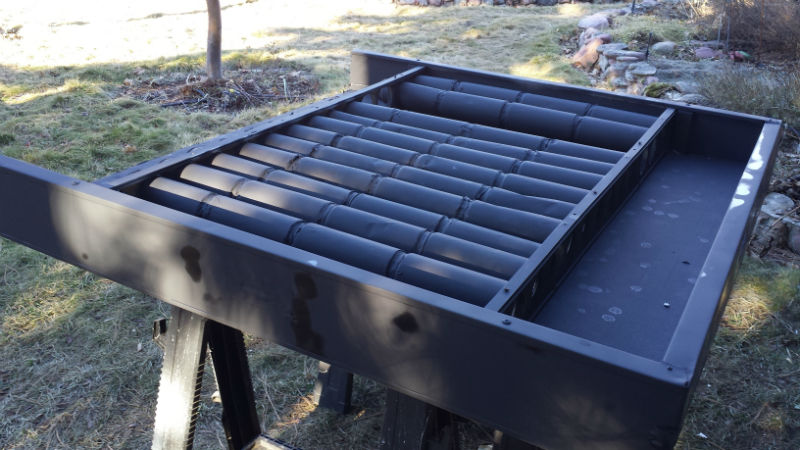 I painted the whole thing flat black – high intensity heat paint. I caulked the cans into place. I really wanted the air to come in and be forced to go through the cans. I was not as concerned for the top manifold.
I used corrugated plastic for the cover and I ran a piece of thick black foam I had on hand to force the air through the manifold and not allow it to run by the plastic cover.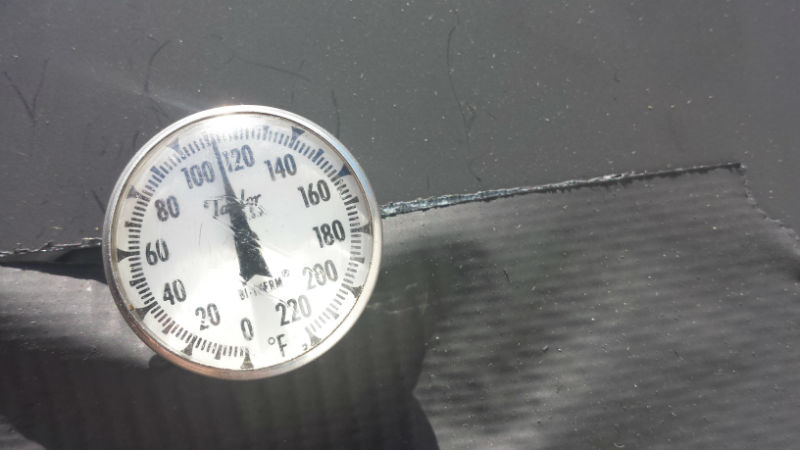 I have a temporary setup of a computer fan powered by a solar panel to help force air through the solar pop can wall heater. It was 55 degrees outside and the air coming out was 110. I am happy.